BAKARA'S ALEXANNE
(02.11.2005 / 15.11.2014)

born the 2nd of november 2005
(Swedish, International Ch. Bakara's Owen x Multi BIS French, Spanish Ch. Bakara's Rosely-Amber)
Swedish, International Ch.
BAKARA'S OWEN
Aust. Ch., European Winner 1998 Xilone Black Jack
Xilone Mezmerize
Aust. Ch. Huzzah Once in a Blue Moon
BIS Aust. Ch. Xilone Down Memory Lane
Anupama Moon Shadow
Aust. Ch. Elwick Dark as Night
Jonz Pretty Woman
Int. Ch. Bakara's Ilona
It. Int. Ch. Bakara's Arthur
It. Int. Ch. Rondelin Mo Hawk of Solstrand
It. Spanish Ch. Romane
Bakara's Elisa
Solstrand Vibart at Bareve
It. Int. Ch. Bakara's Amanda
BIS, French, Spanish Ch. Bakara's Rosely-Amber
Int. Swedish Ch. Hickory's Nauticus
Ch. Jonz Graphic Design
Aust. Ch. Huzzah the Voyageur
Am. Aust. Ch. Gallant Western Reunion
Swedish, Norwegian Ch. Scottwil Aquamarine Dream
GB Ch. Shaunvalley Cornelian
Branwene Atalanta of Scottwil
Int, Spanish Ch. Bakara's Oana
Aust. Ch. European Ch. 1998 Xilone Black Jack
Xilone Mesmerize
Anupama Moon Shadow
Bakara's Elisa
Solstrand Vibart at Bareve
Int. It. Ch. Bakara's Amanda
The 6th of december 2005
1 month old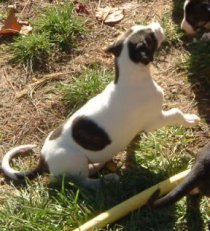 Amalia, Alexanne and Anaïs
The 6th of december 2005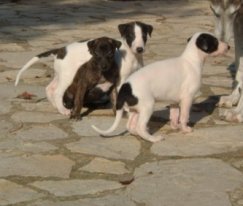 The 6th of december 2005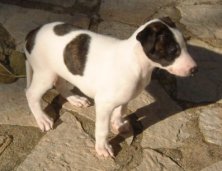 The 6th of december 2005 -
1 month old
with Yaffa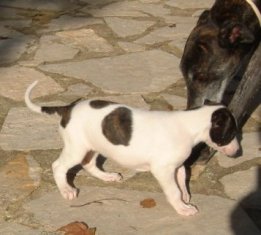 The 22nd of december 2005
Amalia and Alexanne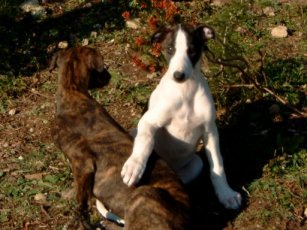 The 22nd of december 2005
Alexanne and Alix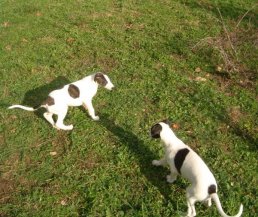 The 29th of december 2005
Alexanne, Anaïs and Anaëlle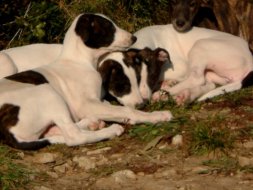 The 29th december 2005
Auxane and Alexanne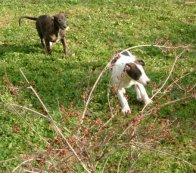 The 29th of december 2005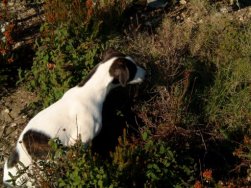 The 21st of january 2006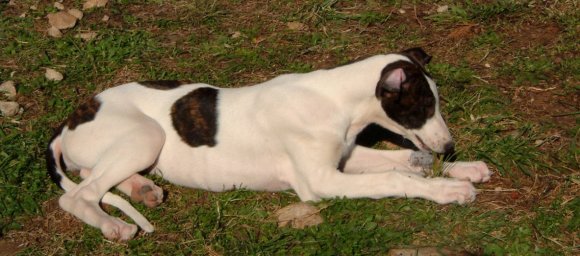 The 23st of january 2006
Alexanne, Anaëlle, Assia, Anaïs and Amandine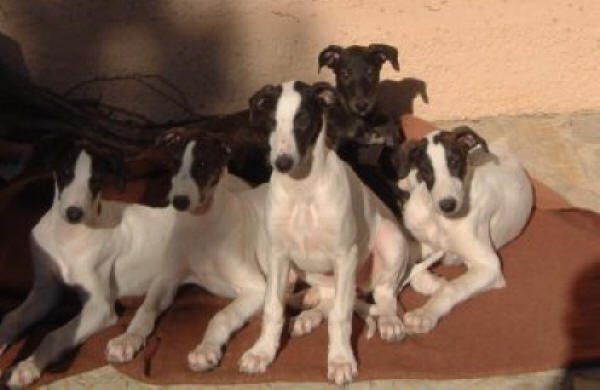 The 31st of january 2006 - 3 months old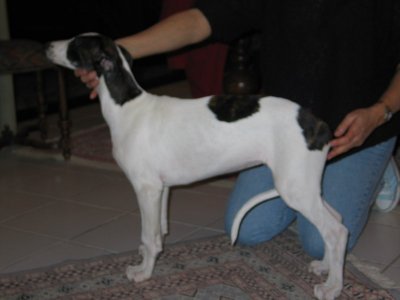 The 1st of february 2006
Alexanne and Auxane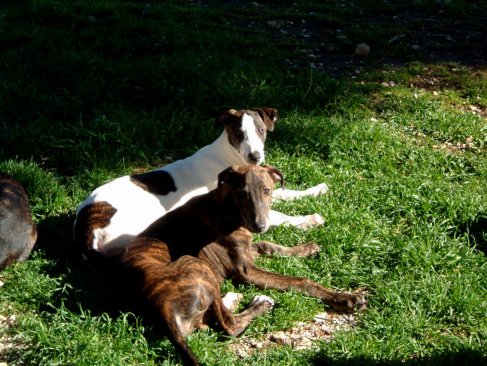 Alexanne has left the Bakara's gang on Tuesday the 21st of february and she is now living with her new family Christian and Johan VANHECKE.
The 21st of february 2006
Christiane and Alexanne - Johan and Alexanne

| | |
| --- | --- |
| | |
Alexanne at her home in June 2006

| | |
| --- | --- |
| | |
During our French National Specialty held in Parigné l'Evêque on Sunday the 14th of august 2006, Alexanne won her Puppy Class and then in competition with the others young classes she finished BEST YOUNG FEMALE of the Show under the judgement of Mr PRUNIER (Fr).
Alexanne enjoys beginning of Autumn
September 2012
Alexanne handled by Yvonne
Alexanne Printemps 2014
8 years and half old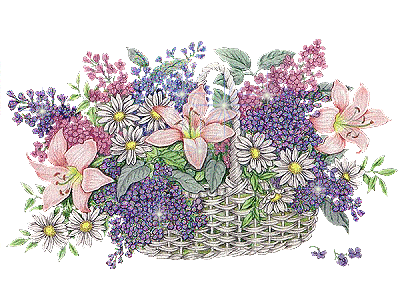 BAKARA'S CELINE

ROMANE

The "A" Litter

The "D" Litter

The "E" Litter

The "I" Litter

The first "O" Litter

BAKARA'S OANA

BAKARA'S ORNELLA

BAKARA'S OSANA

The second "O" Litter

BAKARA'S OCEANE

BAKARA'S OLINNE

BAKARA'S OLIVIANNE

BAKARA'S OPHELIA

BAKARA'S ORANE


BAKARA'S ODALRIC

BAKARA'S ONESIME

BAKARA'S OWEN

The "R" Litter

BAKARA'S RAEMOND

BAKARA'S RENE-ALEXANDER.

BAKARA'S RAFAEL

BAKARA'S ROSE-ANNA


BAKARA'S ROSELY-AMBER

The "S" Litter

BAKARA'S STANISLAS

BAKARA'S SULLIVAN

BAKARA'S SERGIO-PAULO

BAKARA'S SALOME


BAKARA'S SAMANTA-LEE

BAKARA'S SCARLETT-LILY

BAKARA'S SELENA-LUNA

The "U" Litter

BAKARA'S URSULA-FREYA

BAKARA'S UGOLIN

BAKARA'S ULLA-MARIA

The "V" Litter

BAKARA'S VANILLE

The "A" Litter 2005


Puppies aged 15 days old

Puppies aged 6 weeks old

Puppies aged 2 months and half old


BAKARA'S ASSIA

BAKARA'S AMALIA

BAKARA'S ALIX

BAKARA'S ANAIS

BAKARA'S ANAELLE

BAKARA'S AUXANE


BAKARA'S ALEXANNE

BAKARA'S AMANDINE

The "D" Litter 2008


Puppies aged 16 days old

Puppies aged 6 weeks old

Puppies aged 8 weeks old


BAKARA'S DJOVANY

BAKARA'S DRAGANA

BAKARA'S DAHOMEY

BAKARA'S DIANE-LEE

BAKARA'S DIXIE

BAKARA'S DAPHNEE


BAKARA'S DALILA

BAKARA'S DANAELLE

BAKARA'S DAYANA

The "J" Litter 2014


Puppies aged 3 weeks old

Puppies aged 6 weeks old

Puppies aged 7 weeks old


BAKARA'S JOANA

BAKARA'S JODAH

BAKARA'S JAFFA

BAKARA'S JILDA


BAKARA'S JA'NEL

BAKARA'S JANE

BAKARA'S JERALD

The "L" Litter 2015


Puppies the day of birth

Puppies aged 13 days old

Puppies aged 25 days old


Puppies aged 32 days old

Puppies aged 6 weeks old


Puppies aged 2 months old

Puppies aged 2 months and half old


BAKARA'S LEONARD

BAKARA'S LILY-ROSE

BAKARA'S LUUNA

BAKARA'S LISA-MADELINE


BAKARA'S LOCHLANN

BAKARA'S LOHRAN

BAKARA'S LOWEN

BAKARA'S LEO-PAUL


BAKARA'S LUDMILA

BAKARA'S LOUIS-PHILIPPE

The "P" Litter 2019


Puppies aged 3 days old

Puppies aged 11 days old

Puppies aged 1 month old


Puppies aged 1 month and hald old


BAKARA'S PAOLA

BAKARA'S PETRUS

BAKARA'S PRYDWYN


BAKARA'S PADDY

BAKARA'S POL AURELIEN

BAKARA'S PETULA

The "R" Litter 2020


Puppies aged 10 days old

Puppies aged 15 days old

Puppies aged 3 weeks old


Puppies aged 1 month old

Puppies aged 1 month 1/2 old


BAKARA'S RODERICK

BAKARA'S RAGNAR

BAKARA'S ROSA-MARIA

BAKARA'S RACKHAM

BAKARA'S ROXY


BAKARA'S REBECCA

BAKARA'S ROMEO

BAKARA'S RYANA

BAKARA'S RHODA

BAKARA'S RADCLIFF

SOUTHPOINT JARVIS

SOBERS LIMERICK

FIONN CLANN ZOE LANE

XILONE BLACK JACK

HICKORY'S NAUTICUS

THE FUTURE

BAKARA'S HOMEPAGE

GREYHOUND AND ART

OTHERS SITES

GUEST-BOOK