BAKARA'S ASSIA

(02.11.2005 / 16.05.2018)
(Swedish, International Ch. Bakara's Owen x Multi BIS French, Spanish Ch. Bakara's Rosely-Amber)
Swedish, International Ch.
BAKARA'S OWEN
Aust. Ch., European Winner 1998 Xilone Black Jack
Xilone Mezmerize
Aust. Ch. Huzzah Once in a Blue Moon
BIS Aust. Ch. Xilone Down Memory Lane
Anupama Moon Shadow
Aust. Ch. Elwick Dark as Night
Jonz Pretty Woman
Int. Ch. Bakara's Ilona
It. Int. Ch. Bakara's Arthur
It. Int. Ch. Rondelin Mo Hawk of Solstrand
It. Spanish Ch. Romane
Bakara's Elisa
Solstrand Vibart at Bareve
It. Int. Ch. Bakara's Amanda
BIS, French, Spanish Ch. Bakara's Rosely-Amber
Int. Swedish Ch. Hickory's Nauticus
Ch. Jonz Graphic Design
Aust. Ch. Huzzah the Voyageur
Am. Aust. Ch. Gallant Western Reunion
Swedish, Norwegian Ch. Scottwil Aquamarine Dream
GB Ch. Shaunvalley Cornelian
Branwene Atalanta of Scottwil
Int, Spanish Ch. Bakara's Oana
Aust. Ch. European Ch. 1998 Xilone Black Jack
Xilone Mesmerize
Anupama Moon Shadow
Bakara's Elisa
Solstrand Vibart at Bareve
Int. It. Ch. Bakara's Amanda
The 6th of december 2005
1 month old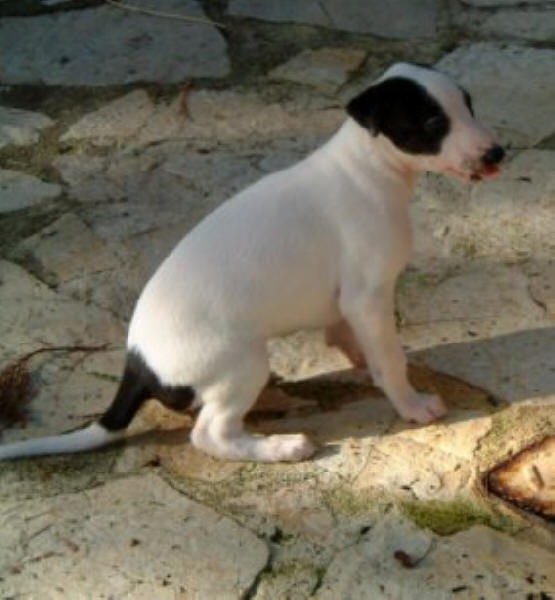 The 14th of december 2005
Assia and AnaÔs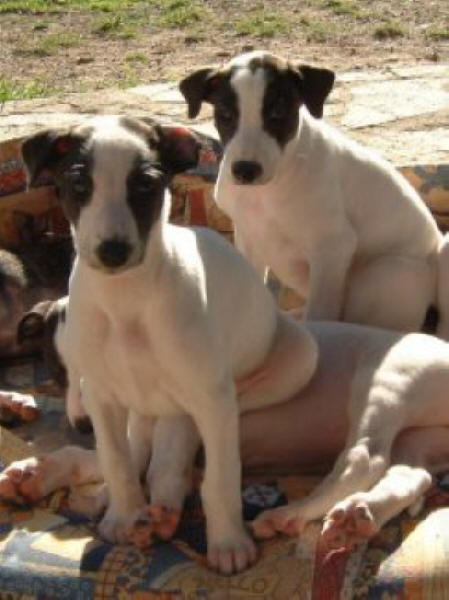 The 22nd of december 2005 with Alexanne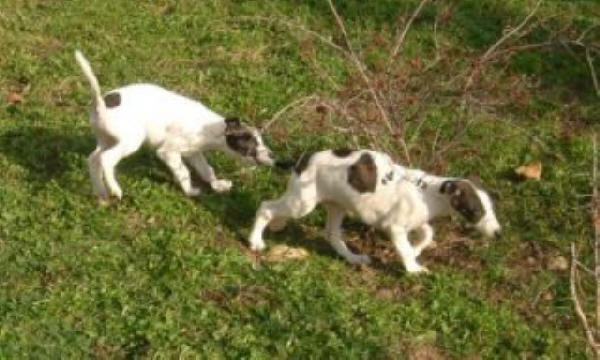 The 23rd of january 2006
Alexanne, AnaŽlle, Assia and AnaÔs
on the back Amandine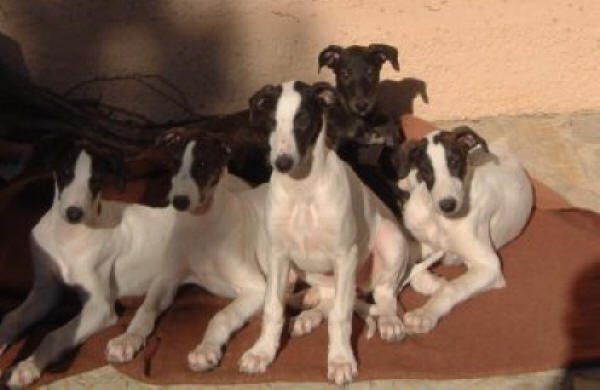 The 23rd of january 2006 - 2 months half old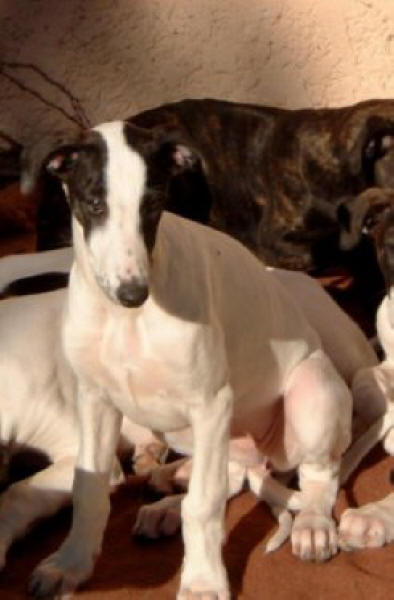 The 1st of february 2006
Assia and Alix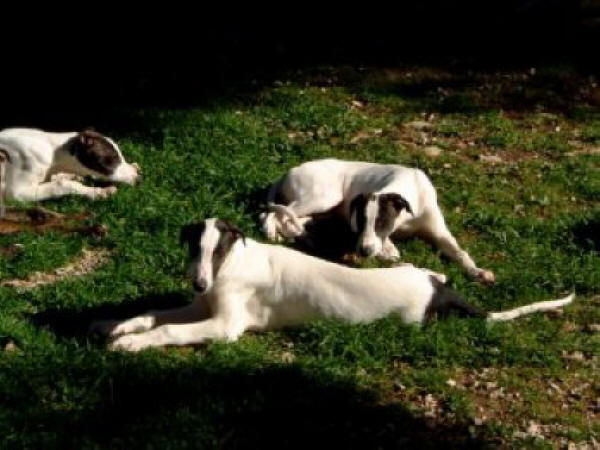 The 12th of february 2006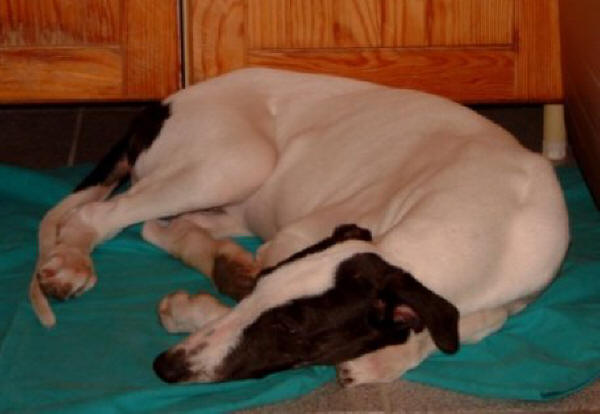 The 15th of february 2006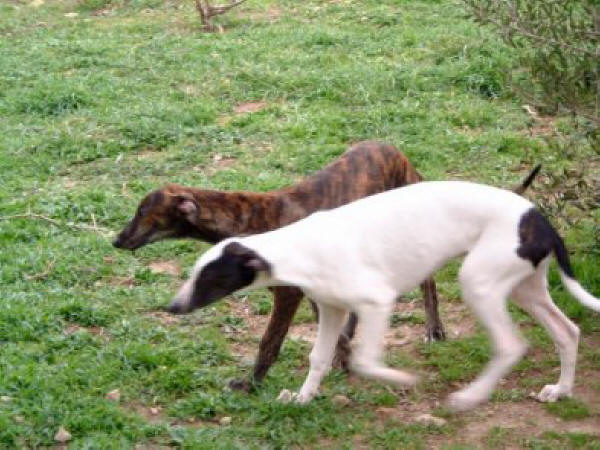 February 2006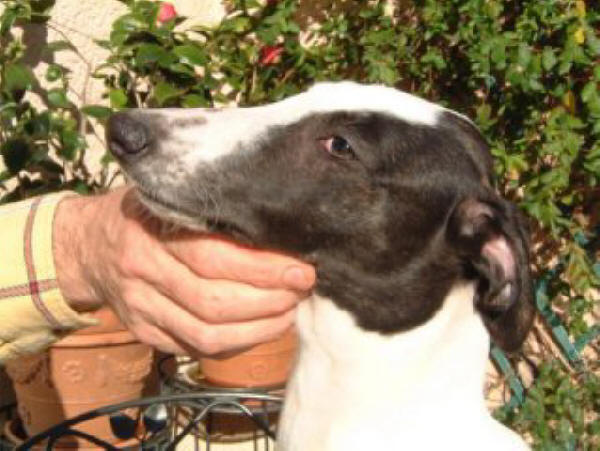 February 2006 in the garden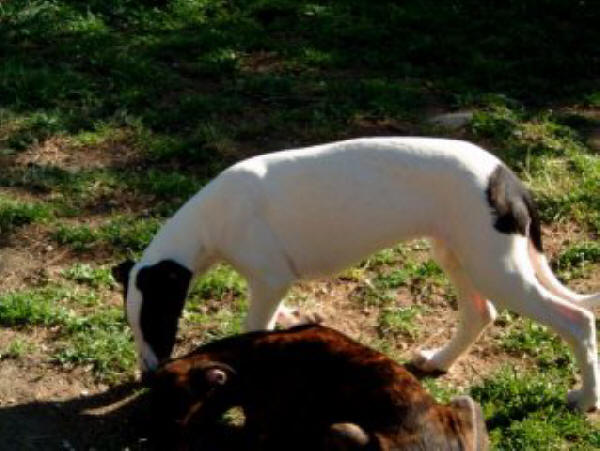 February 2006 in the garden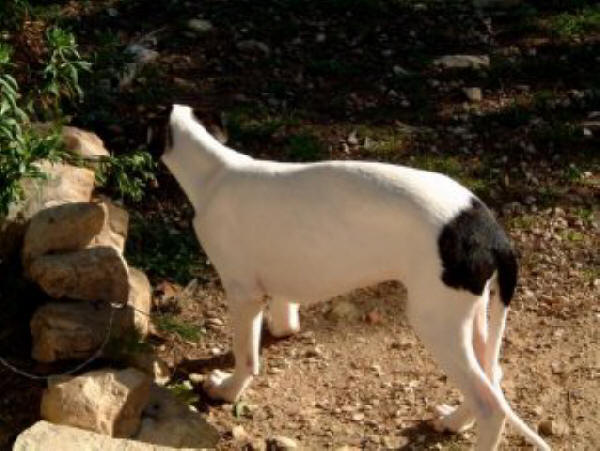 The 2nd of april in the garden - 5 months old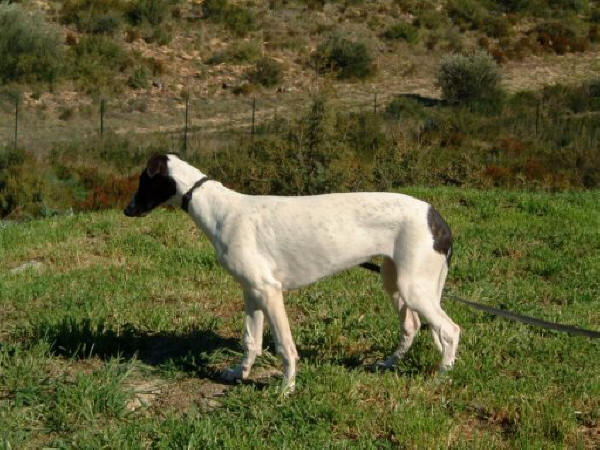 The 2nd of may - 6 months old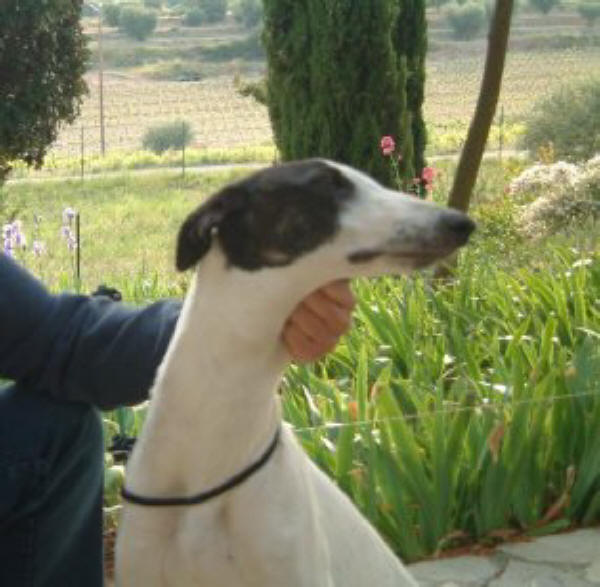 The 2nd of may - 6 months old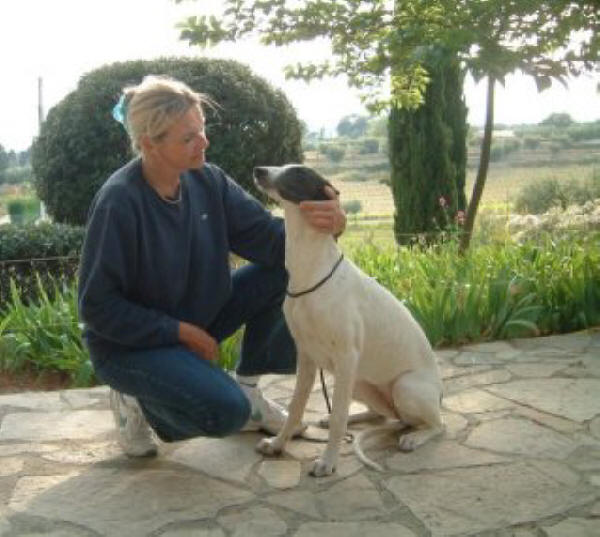 The 2nd of may - 6 months old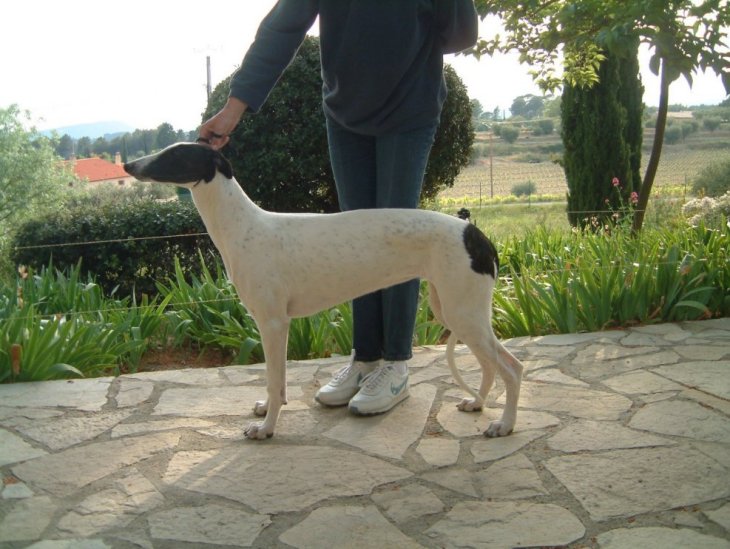 Assia has left the Bakara's gang on Thursday the 18th of may and she is now living with her new family Mr & Mrs TOURNIER near DIJON.
Mail received from ASSIA the 14th of June 2006
Dear mom "Yaffa",

I write this letter for you to give you some news from here. The travel in car occurred very well: neither vomit, nor wee. Everyone was happy and astonished . My half-brothers and sisters Ourackand Datcha offered me a cordial reception with plenty of animation. As of the following day, I did one walk without leaves, I could plunge in the river with my brothers and sisters: it was cold but the
sun was shining. By here, there is full with quite green and quite high forests.
On Sunday the 11st, we went to the Racing Track and the meeting of the club (Levriers Champagne-Ardennes). They did not allow me to me to run but one rewarded me by making me run on a straight line which I swallowed in 5 seconds. Then a barbecue followed to celebrate my effort and the ones of my greyhounds friends. We were 50 free. We could run all together and I have now a young saluki as friend.
Finally, all is fine here. I drink well, eat sleep and run well. I need to visit soon my vet for my worms tablets.

We keep in touch.
Bakara's Assia
28.09.2015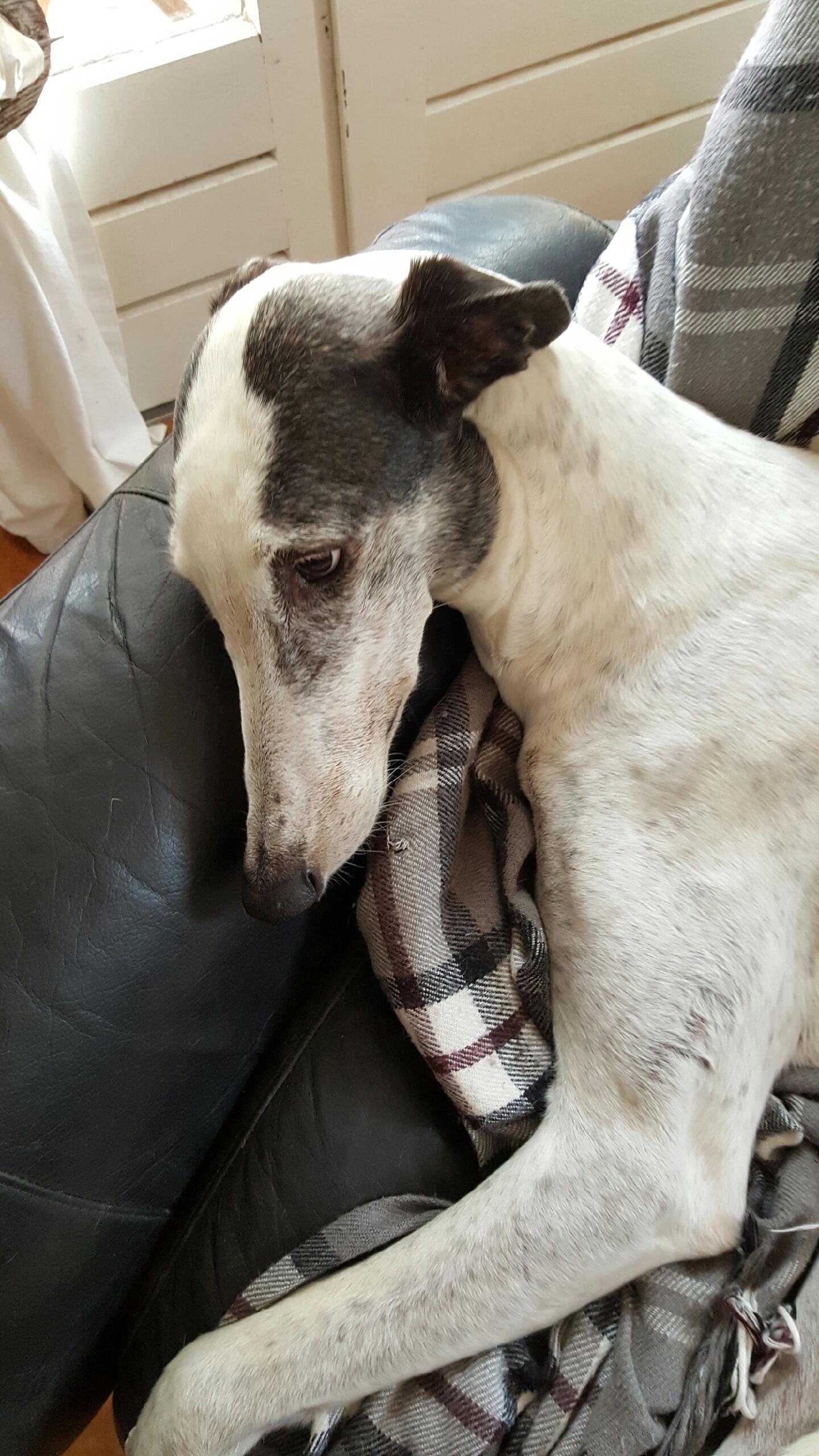 15.10.2015

| | |
| --- | --- |
| | |
23.10.2015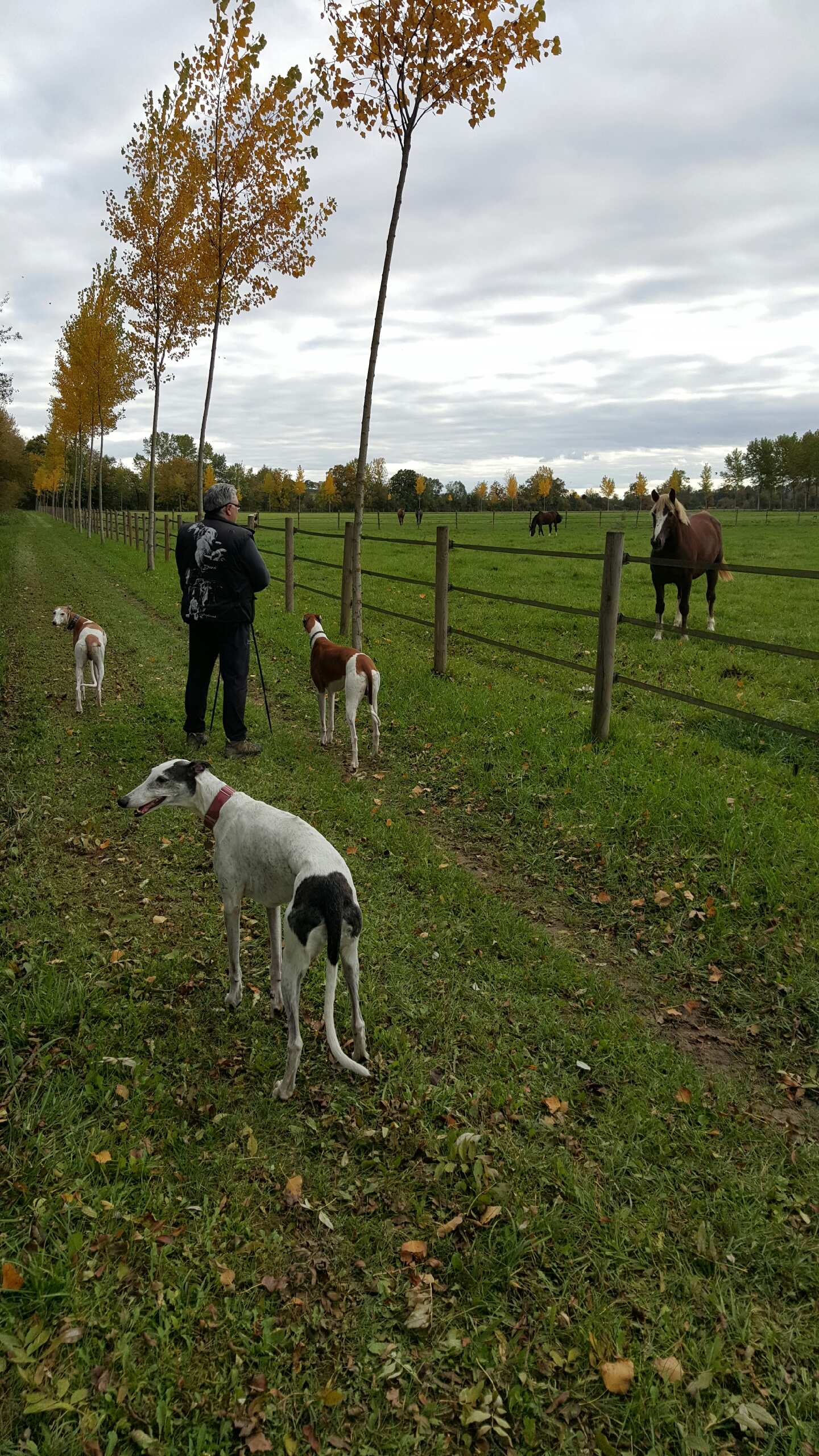 Assia passed away on May 16, 2018.
12 years and 6 months of Happiness.
She leaves her family in pain.
RIP Assia and Fly to the Stars join all those who have already left us.


BAKARA'S CELINE

ROMANE

The "A" Litter

The "D" Litter

The "E" Litter

The "I" Litter

The first "O" Litter

BAKARA'S OANA

BAKARA'S ORNELLA

BAKARA'S OSANA

The second "O" Litter

BAKARA'S OCEANE

BAKARA'S OLINNE

BAKARA'S OLIVIANNE

BAKARA'S OPHELIA

BAKARA'S ORANE


BAKARA'S ODALRIC

BAKARA'S ONESIME

BAKARA'S OWEN

The "R" Litter

BAKARA'S RAEMOND

BAKARA'S RENE-ALEXANDER.

BAKARA'S RAFAEL

BAKARA'S ROSE-ANNA


BAKARA'S ROSELY-AMBER

The "S" Litter

BAKARA'S STANISLAS

BAKARA'S SULLIVAN

BAKARA'S SERGIO-PAULO

BAKARA'S SALOME


BAKARA'S SAMANTA-LEE

BAKARA'S SCARLETT-LILY

BAKARA'S SELENA-LUNA

The "U" Litter

BAKARA'S URSULA-FREYA

BAKARA'S UGOLIN

BAKARA'S ULLA-MARIA

The "V" Litter

BAKARA'S VANILLE

The "A" Litter 2005


Puppies aged 15 days old

Puppies aged 6 weeks old

Puppies aged 2 months and half old


BAKARA'S ASSIA

BAKARA'S AMALIA

BAKARA'S ALIX

BAKARA'S ANAIS

BAKARA'S ANAELLE

BAKARA'S AUXANE


BAKARA'S ALEXANNE

BAKARA'S AMANDINE

The "D" Litter 2008


Puppies aged 16 days old

Puppies aged 6 weeks old

Puppies aged 8 weeks old


BAKARA'S DJOVANY

BAKARA'S DRAGANA

BAKARA'S DAHOMEY

BAKARA'S DIANE-LEE

BAKARA'S DIXIE

BAKARA'S DAPHNEE


BAKARA'S DALILA

BAKARA'S DANAELLE

BAKARA'S DAYANA

The "J" Litter 2014


Puppies aged 3 weeks old

Puppies aged 6 weeks old

Puppies aged 7 weeks old


BAKARA'S JOANA

BAKARA'S JODAH

BAKARA'S JAFFA

BAKARA'S JILDA


BAKARA'S JA'NEL

BAKARA'S JANE

BAKARA'S JERALD

The "L" Litter 2015


Puppies the day of birth

Puppies aged 13 days old

Puppies aged 25 days old


Puppies aged 32 days old

Puppies aged 6 weeks old


Puppies aged 2 months old

Puppies aged 2 months and half old


BAKARA'S LEONARD

BAKARA'S LILY-ROSE

BAKARA'S LUUNA

BAKARA'S LISA-MADELINE


BAKARA'S LOCHLANN

BAKARA'S LOHRAN

BAKARA'S LOWEN

BAKARA'S LEO-PAUL


BAKARA'S LUDMILA

BAKARA'S LOUIS-PHILIPPE

The "P" Litter 2019


Puppies aged 3 days old

Puppies aged 11 days old

Puppies aged 1 month old


Puppies aged 1 month and hald old


BAKARA'S PAOLA

BAKARA'S PETRUS

BAKARA'S PRYDWYN


BAKARA'S PADDY

BAKARA'S POL AURELIEN

BAKARA'S PETULA

The "R" Litter 2020


Puppies aged 10 days old

Puppies aged 15 days old

Puppies aged 3 weeks old


Puppies aged 1 month old

Puppies aged 1 month 1/2 old


BAKARA'S RODERICK

BAKARA'S RAGNAR

BAKARA'S ROSA-MARIA

BAKARA'S RACKHAM

BAKARA'S ROXY


BAKARA'S REBECCA

BAKARA'S ROMEO

BAKARA'S RYANA

BAKARA'S RHODA

BAKARA'S RADCLIFF

SOUTHPOINT JARVIS

SOBERS LIMERICK

FIONN CLANN ZOE LANE

XILONE BLACK JACK

HICKORY'S NAUTICUS

THE FUTURE

BAKARA'S HOMEPAGE

GREYHOUND AND ART

OTHERS SITES

GUEST-BOOK