* ALES - National Dog Show (02.04.2023)
Bakara's Rosa Maria : 1st Exc - CACS - Best of Breed - Best of Group X-
Best in Show II
* ALES - National Dog Show (01.04.2023)
Bakara's Rosa Maria : 1st Exc - CACS - Best of Breed
* Mating of Ch. Bakara's Paola with Multi Ch. Sobers Watson
Puppies are expected Mid-May.
You will find more informations and photos of parents on the page The Future

* CAVALAIRE - National Dog Show (05.02.2023)
Bakara's Ragnar : 1st Exc - CACS - Best of Breed
News 2022
* MARSEILLE - International Dog Show - Greyhounds Specialty (27.11.2022)
Bakara's Ragnar : 1st Exc - RCACS
* Bakara's Paola has 2 Titles :
- FRENCH Champion
- NATIONAL DOGSHOWS Champion

* MARTIGUES - International Dog Show (25.09.2022)
Bakara's Ragnar : 1st Exc - CACS - RCACIB
Bakara's Paola : 1st Exc - CACS - CACIB
* MARTIGUES - National Dog Show (24.09.2022)
Bakara's Ragnar : 1st Exc - CACS - Best of Breed
Bakara's Paola : 1st Exc - CACS - Best Opposite Sex
* CERILLY - Greyhounds National Specialty (11.06.2022)
Bakara's Ragnar : 1st Exc - CACS - Best Male
Best In Show
Bakara's Paola : 1st Exc - CACS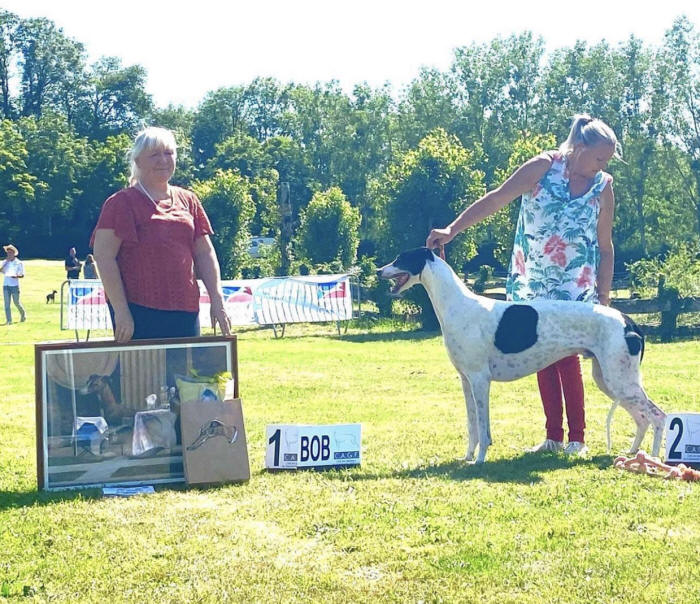 Photo Pier Luigi PRIMAVERA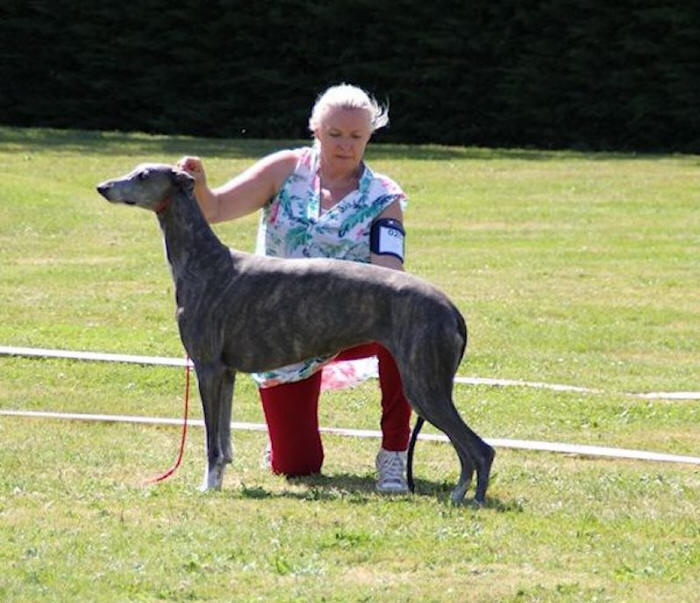 Photo Christian
* VILLEPINTE - European Dog Show (23.04.2022)
Bakara's Ragnar : 2nd Exc
Bakara's Paola : 1st Exc - RCACS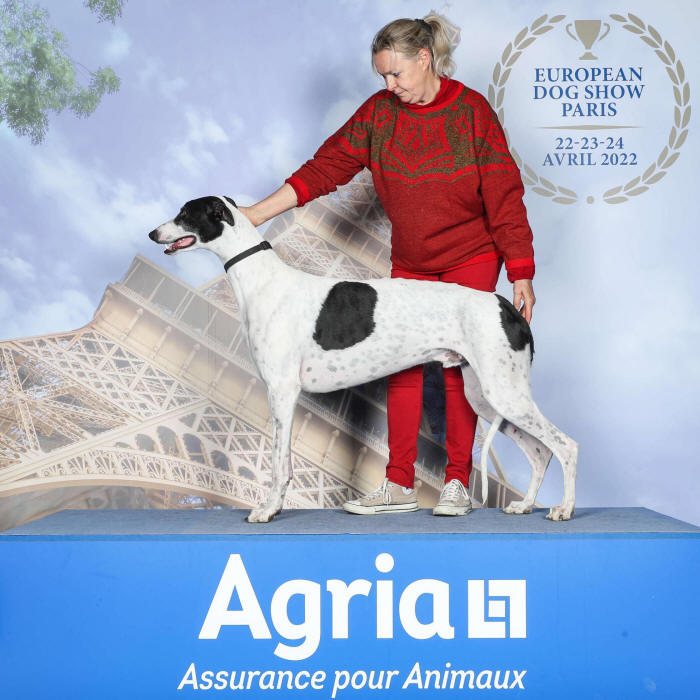 Photo Lola LEDOUX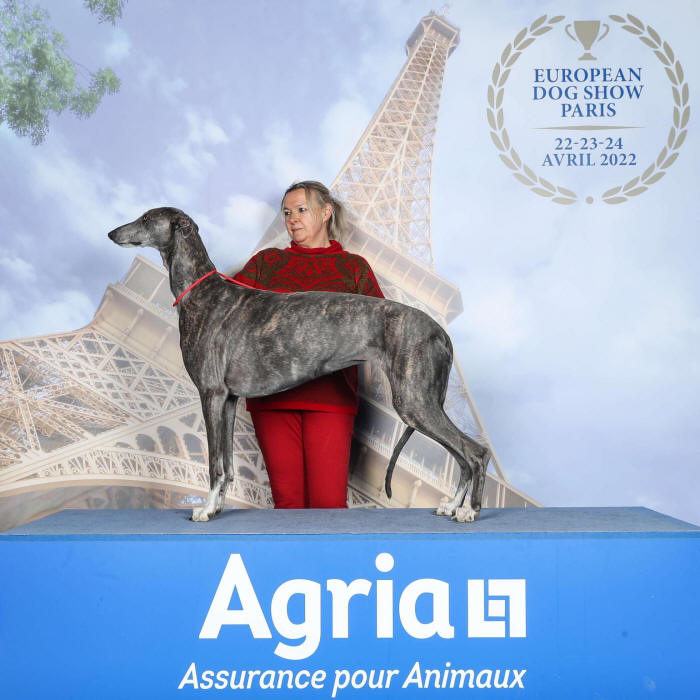 Photo Lola LEDOUX
* VILLEPINTE - French Championship Show (22.04.2022)
Bakara's Ragnar : 1st Exc - RCACS - RCACIB
Bakara's Paola : 3rd Exc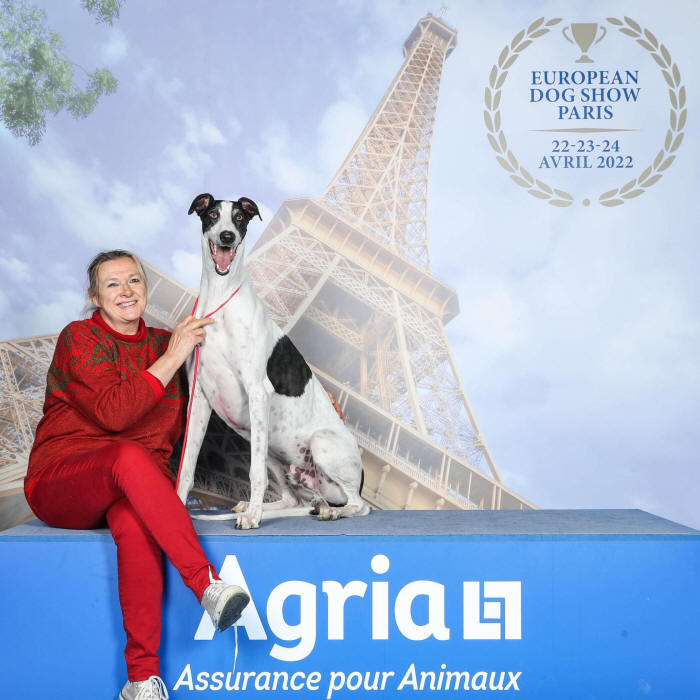 Photo Lola LEDOUX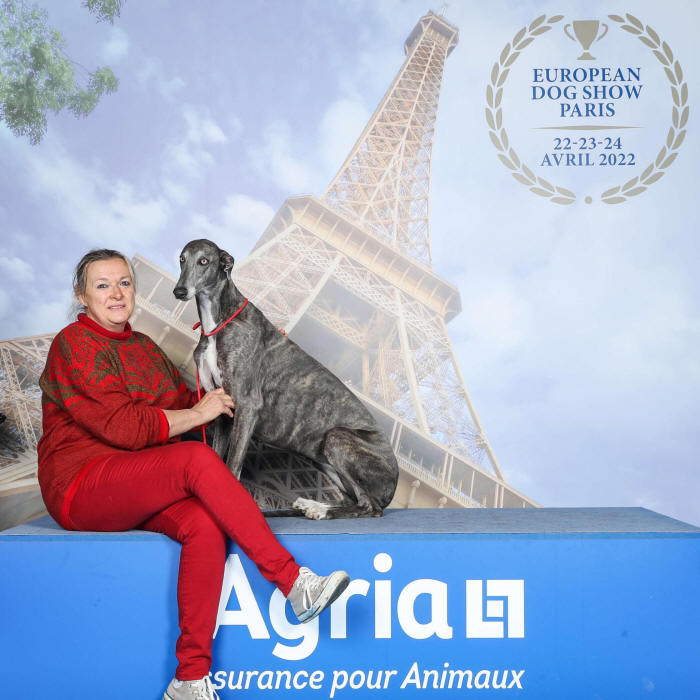 Photo Lola LEDOUX
* ALES - National Dog Show (03.04.2022)
Bakara's Ragnar : 1st Exc - CACS - Best of Breed
Bakara's Paola : 1st Exc - CACS - Best Opposite Sex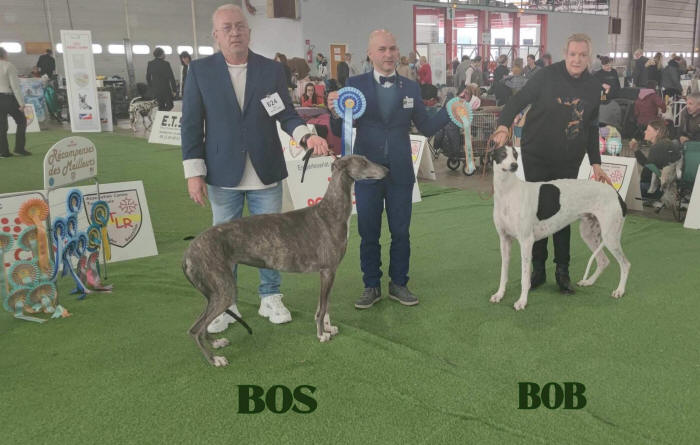 Photo Pascal MINA
* ALES - National Dog Show (02.04.2022)
Bakara's Ragnar : 1st Exc - CACS
Bakara's Paola : 1st Exc - CACS
* CAVALAIRE - National Dog Show (06.02.2022)
Bakara's Ragnar : 1st Exc - CACS - Best Opposite Sex
Bakara's Paola : 1er Exc - CACS - Best of Breed - BOG III
In 2021
* CERILLY - Greyhounds National Specialty (04.10.2021)
Bakara's Ragnar : 1st Exc in Class "Intermédiaire" Male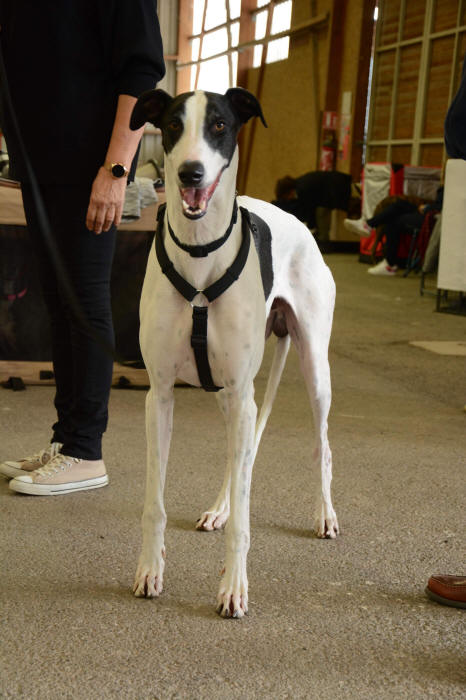 Photo Catherine MARX
Bakara's Paola : 2nd Exc RCACS in Open Class Female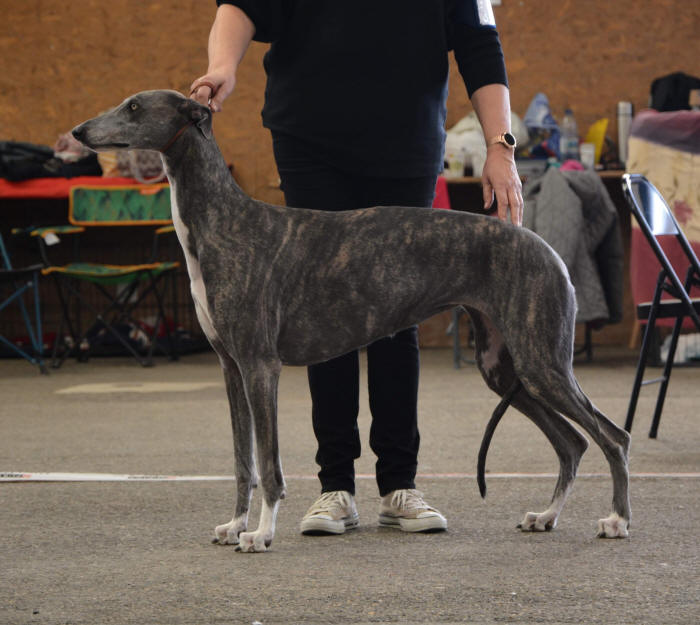 Photo Catherine MARX
In 2020
* CAVALAIRE - National Dog Show (19.01.2020)
Bakara's Leonard : 1er Exc - CACS - BOB
Bakara's Paola : 1er Exc - BOS - Best Young Greyhound - Best Young Group X - Best In Show Young III
In 2019
* AVIGNON - CACS - Greyhounds Specialty (21.09.2019)
Bakara's Paola : Very Promising - Best Puppy
En 2018
* LA ROCHE POSAY - Greyhound National Specialty (01.09.2018)
Bakara's Lisa-Madeline : 3rd Exc
Bakara's Leonard : 2nd Exc - RCACS
* Bakara's Ja'Nel aka DRAGAN is FRENCH CHAMPION
* Bakara's Lisa-Madeline is FRENCH CHAMPION
* Bakara's Lisa-Madeline aka Lisa is Number 1
Bakara's Jaffa is Number 3
at Club Ranking "2017 Top Greyhounds Shows " Club des Amateurs de Greyhounds de France (CAGF)
* Bakara's Jaffa is INTERNATIONAL CHAMPION
* Bakara's Ja'Nel aka DRAGAN is INTERNATIONAL CHAMPION
* Bakara's Leo-Paul is ROMANIAN CHAMPION
* MONACO: International Dog Show (05.05.2018)
Bakara's Ja'Nel : 1st Exc - CACS - CACIB - Best of Breed
Bakara's Jaffa : 1st Exc - CACIB
Dragan and Jaffa got the Title of International Champion
* LYON : International Dog Show (22.04.2018)
Bakara's Lisa-Madeline : 1st Exc - CACS - RCACIB
Bakara's Jaffa : 1er Exc - CACIB - Best of Breed
* PARIS - Concours Général Agricole - Salon de l'Agriculture - 03.03.2018
Bakara's Lisa-Madeline : N° 2 in Class CACS Female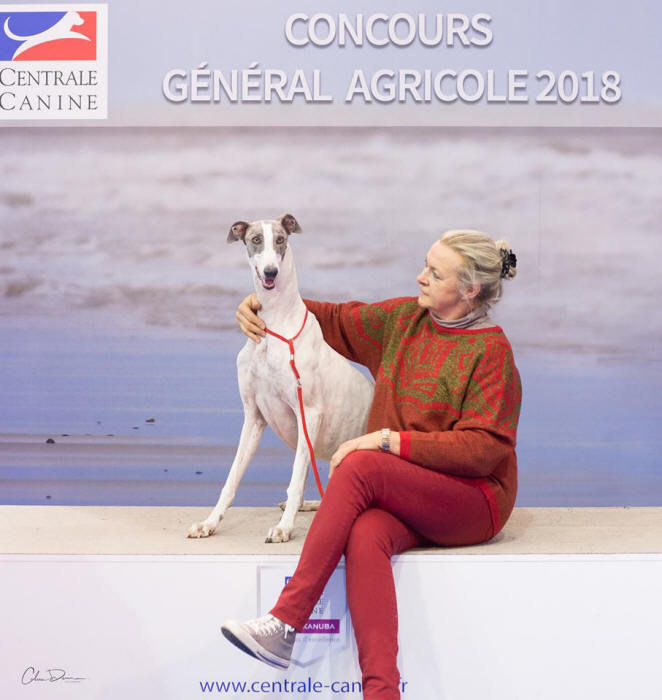 Photo Coline Derin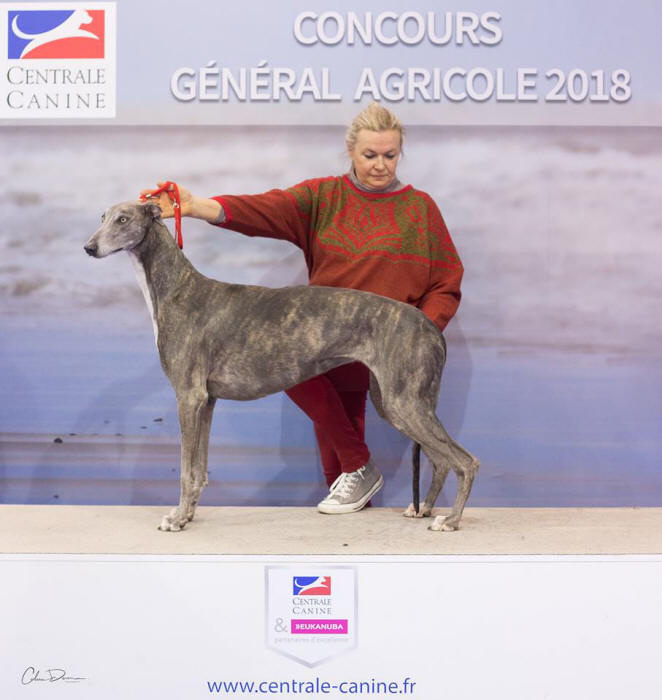 Photo Coline Derin
* Classement Top Greyhounds 2017 French Review "VOS CHIENS"
Bakara's Lisa-Madeline : 2nd with 34 points in 5 dogshows

At Home
Amandine and "J" puppies - 21.12.2014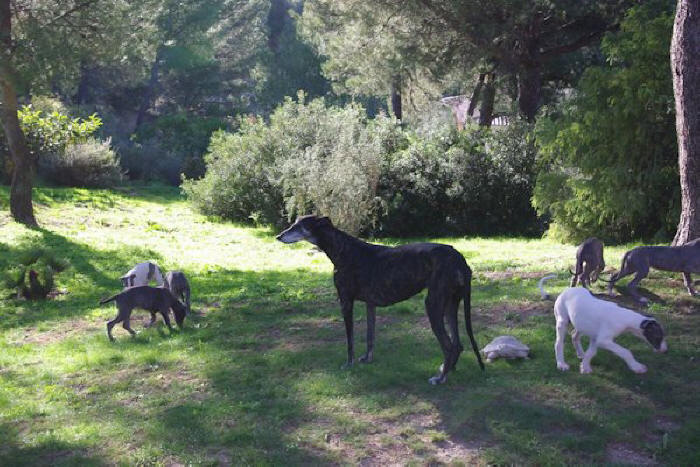 Amandine & the "J" puppies- 21.12.2014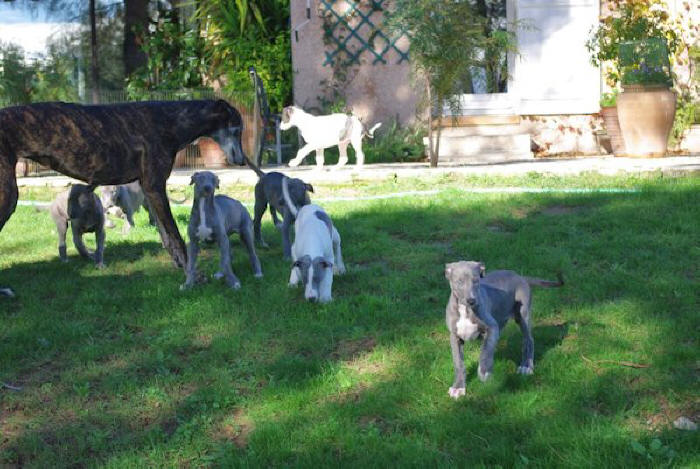 Bakara's Amandine & Bakara's Vanille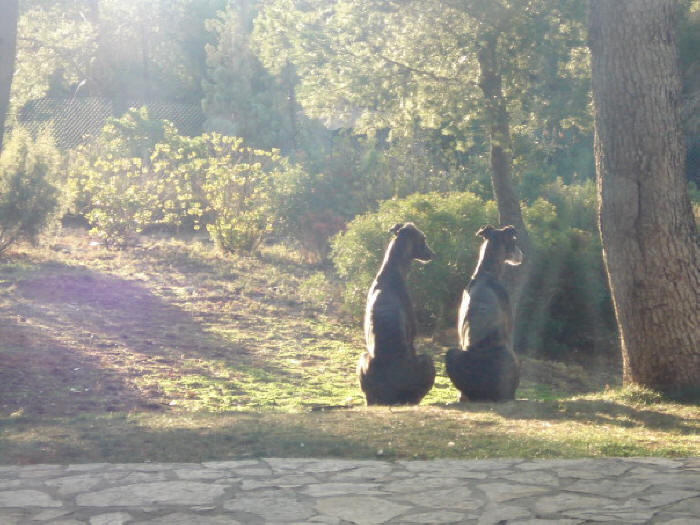 Bakara's Ja'Nel, Fionn Clann Zoe Lane, Sobers Limerick
& Bakara's Djovany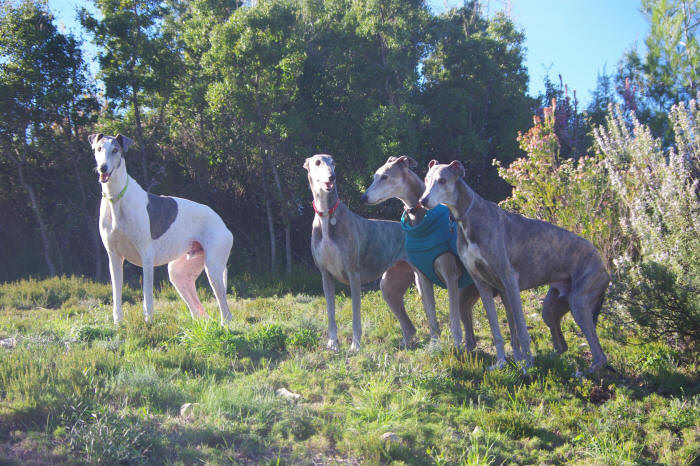 At Dog Shows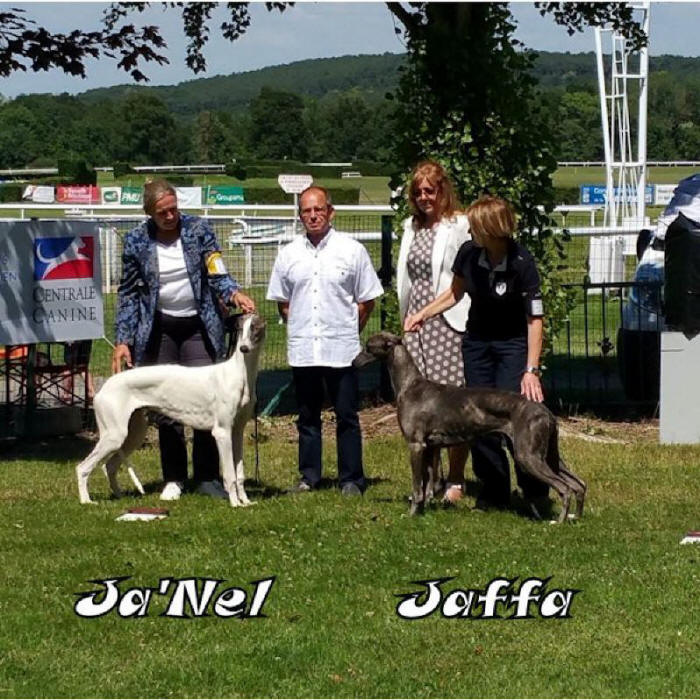 Bakara's Ja'Nel "Dragan" & Bakara's Jaffa
20.06.2015 - Greyhound National Specialty of La Roche Posay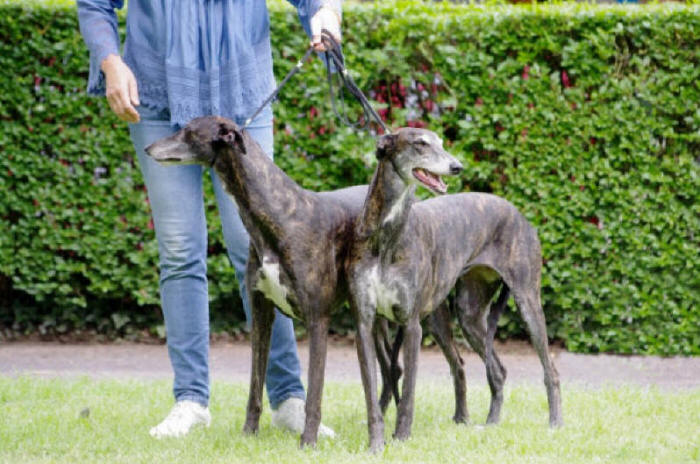 "Meilleure Paire" for Bakara's Amandine & Bakara's Vanille
12.06.2010 - Greyhound National Specialty of La Roche Posay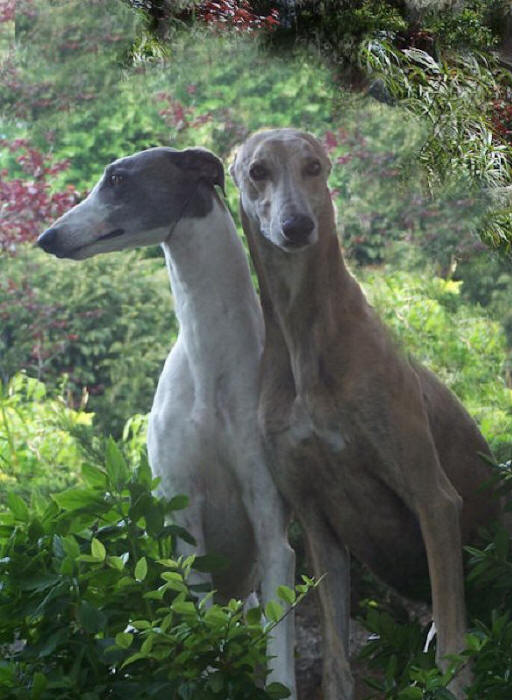 Left : Dragana fisnished International and Champion of Monaco
Right : Sobers Limerick at Bakara's finished Champion of Monaco
22.04.2011 - International Show of Monaco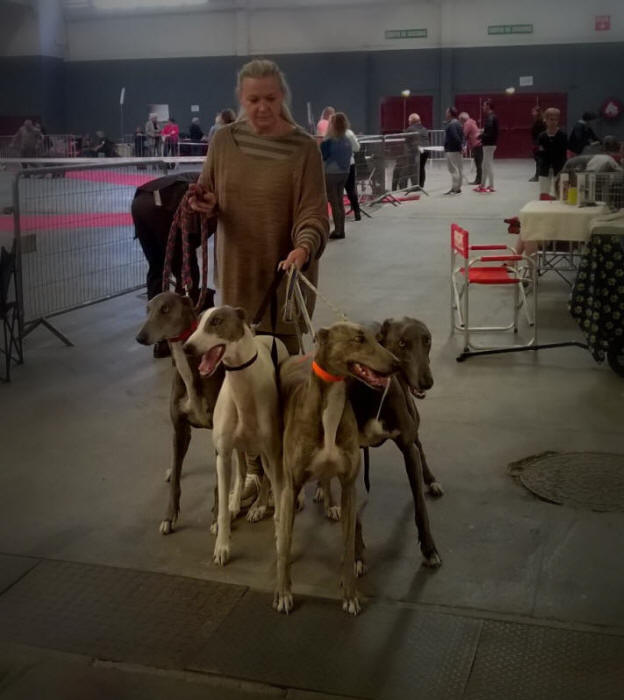 08.05.2017 - International DogShow of Marseille
From left to right, Jaffa, Lisa-Madeline, Luuna & Jodah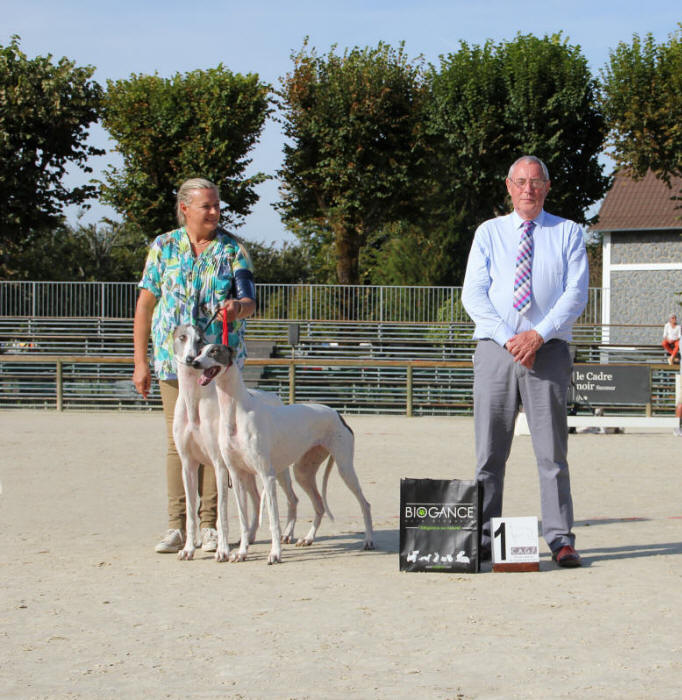 Pompadour - 23.09.2017
Bakara's Ja'Ne & Bakara's Lisa-Madeline
Best Brace

The Greyhounds at BAKARA'S are selected for the Shows but above all they have a family life and they are our best companions.
The old lady BAKARA'S AMANDA, whose 13th birthday was on November 1998, the 25th, used to live in the living room and the kitchen till her death.
Same life for the latest one and missed BAKARA'S OANA, who passed over the rainbow bridge at age of 13 years and 11 months, the 2nd of January 2012.
And this, for all the oldies who have followed, until now.

They have their own air-conditonned "room" with beds and sofas where they spent the night.
During the day they are in the garden (around 8.000 m2) and also have an outdoor room in case of bas weather or even strong sun.
DRAGANA, AMANDINE & LOLA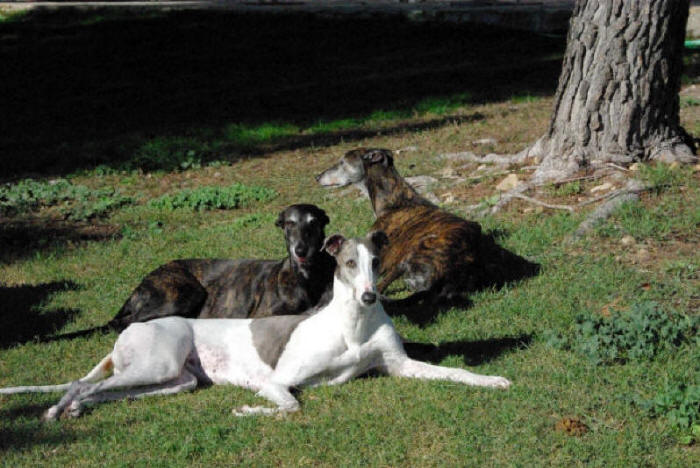 BAKARA'S DRAGANA & BAKARA'S AMANDINE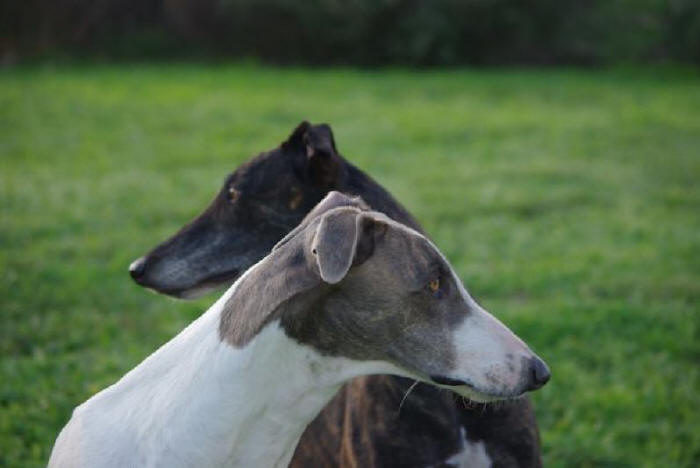 BAKARA'S DRAGANA & BAKARA'S AMANDINE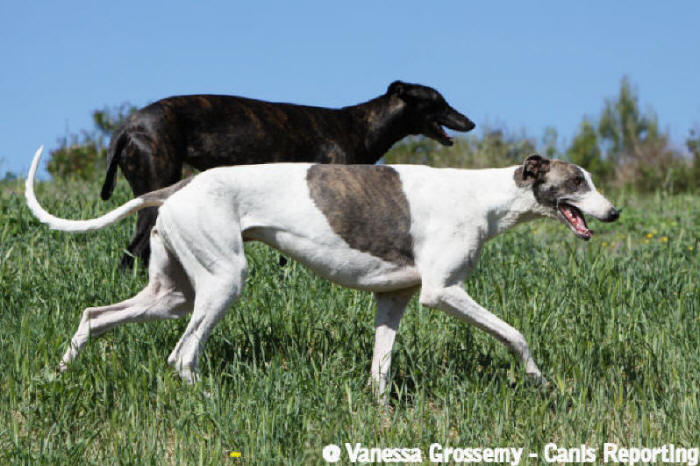 DRAGANA, LOLA & RICKI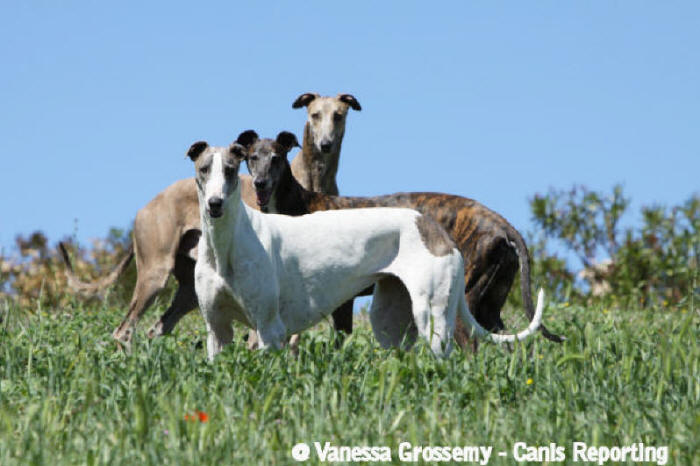 JAFFA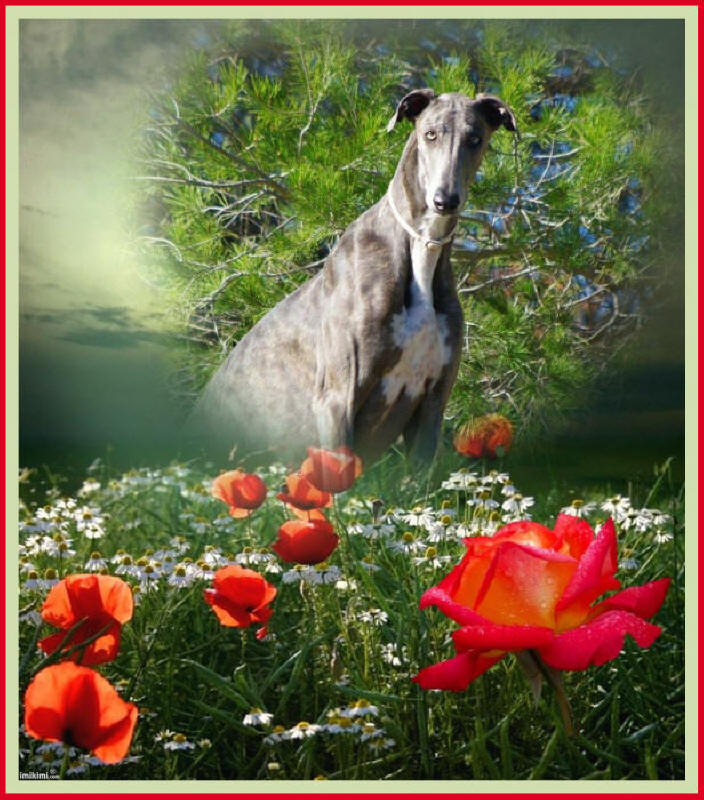 Puppies are born in the house. So they are familiar with the different noises, with the people and are therefore prepared for their future life.
When they start to walk they explore the garden and at about 1 month 1/2 they go in a large park for good physical development.
AS YOU CAN SEE I AM VERY PROUD OF MY GREYHOUNDS.
BUT BESIDES BEEING BREEDING OR SHOWING QUALITY, THEY ARE ALL LIVING PETS !!!
BAKARA'S SELENA-LUNA "Lulu"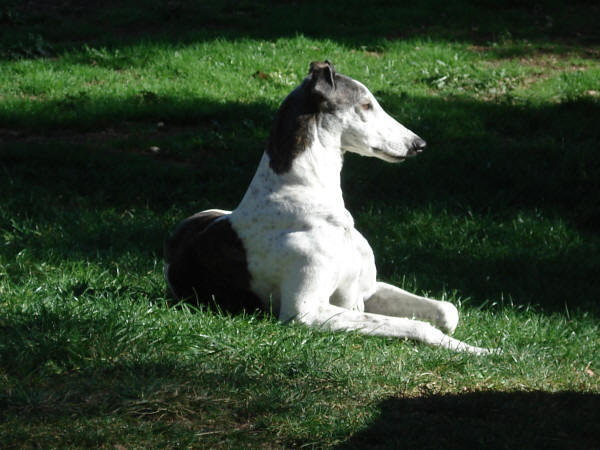 BABY, NINI, RICK et OANA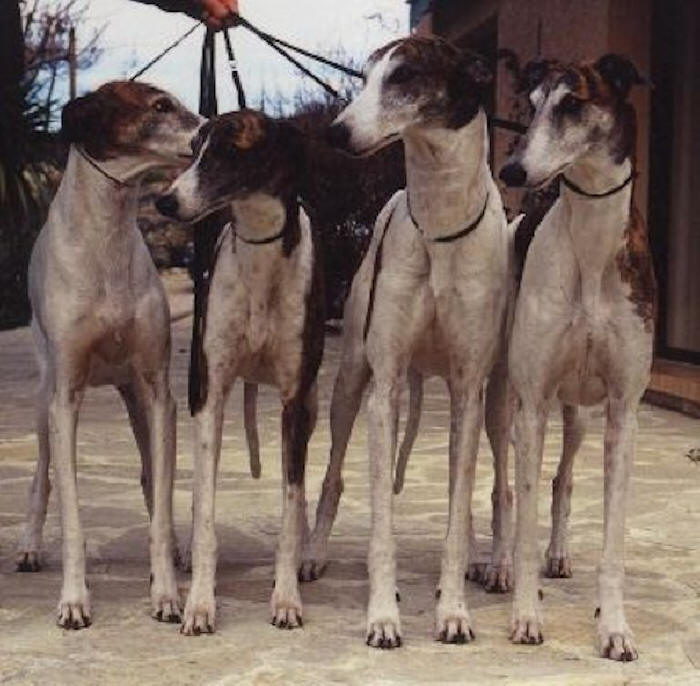 LULU, YAFFA & OANA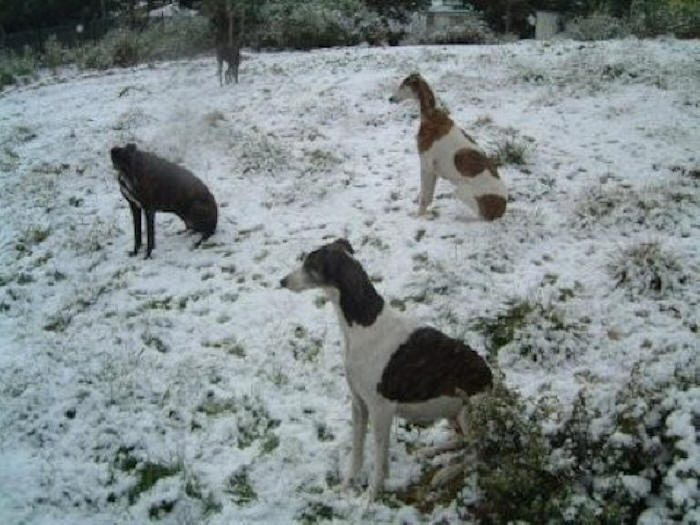 SOBERS LIMERICK "Ricki" & BAKARA'S ROSELY-AMBER "Yaffa"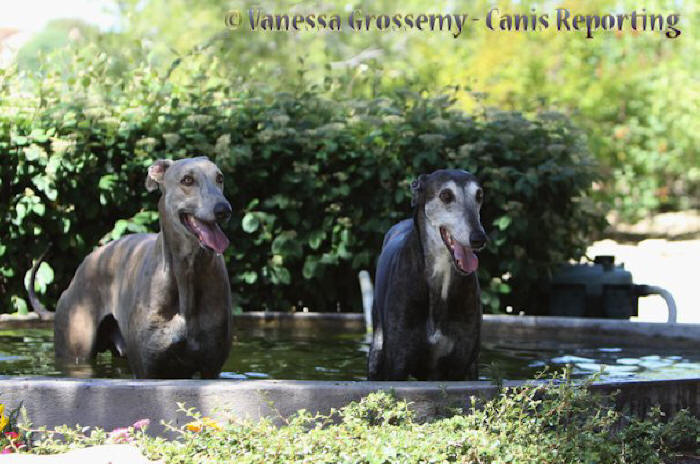 And Puppies !!!!!!!!!!!!!!!!!
The "J" Litter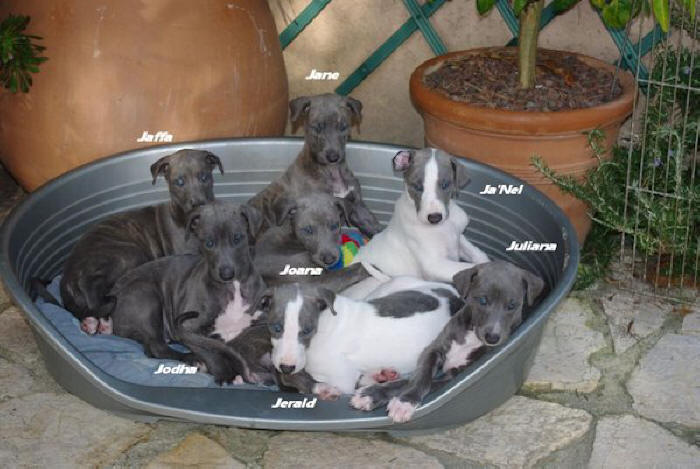 The "L" Litter born 02.10.2015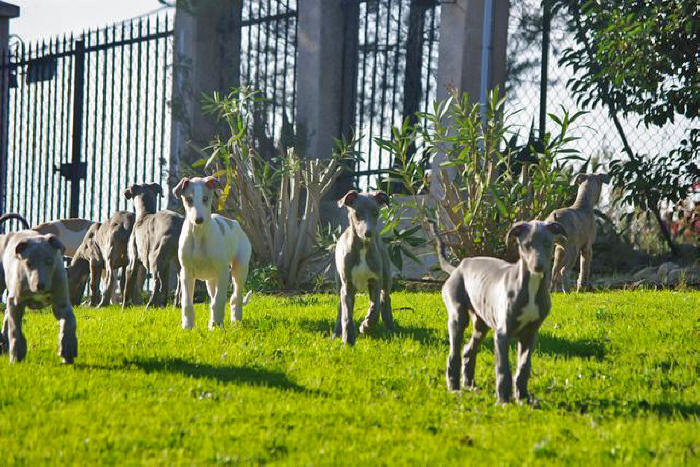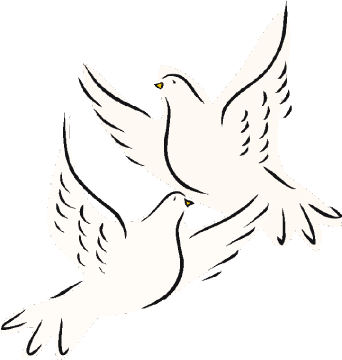 In Loving Memory
Bakara's Oana (05.02.1998 - 02.01.2012) & Bakara's Vanille (20.06.2004 - 29.12.2011)

I would like to show you a part of my postcards and stamps collection gathered here and there during my outings.
And famous sculptures, paintings, prints, lithos, old gravures I could view ... last but not least all representing greyhounds.


BAKARA'S CELINE

ROMANE

The "A" Litter

The "D" Litter

The "E" Litter

The "I" Litter

The first "O" Litter

BAKARA'S OANA

BAKARA'S ORNELLA

BAKARA'S OSANA

The second "O" Litter

BAKARA'S OCEANE

BAKARA'S OLINNE

BAKARA'S OLIVIANNE

BAKARA'S OPHELIA

BAKARA'S ORANE


BAKARA'S ODALRIC

BAKARA'S ONESIME

BAKARA'S OWEN

The "R" Litter

BAKARA'S RAEMOND

BAKARA'S RENE-ALEXANDER.

BAKARA'S RAFAEL

BAKARA'S ROSE-ANNA


BAKARA'S ROSELY-AMBER

The "S" Litter

BAKARA'S STANISLAS

BAKARA'S SULLIVAN

BAKARA'S SERGIO-PAULO

BAKARA'S SALOME


BAKARA'S SAMANTA-LEE

BAKARA'S SCARLETT-LILY

BAKARA'S SELENA-LUNA

The "U" Litter

BAKARA'S URSULA-FREYA

BAKARA'S UGOLIN

BAKARA'S ULLA-MARIA

The "V" Litter

BAKARA'S VANILLE

The "A" Litter 2005


Puppies aged 15 days old

Puppies aged 6 weeks old

Puppies aged 2 months and half old


BAKARA'S ASSIA

BAKARA'S AMALIA

BAKARA'S ALIX

BAKARA'S ANAIS

BAKARA'S ANAELLE

BAKARA'S AUXANE


BAKARA'S ALEXANNE

BAKARA'S AMANDINE

The "D" Litter 2008


Puppies aged 16 days old

Puppies aged 6 weeks old

Puppies aged 8 weeks old


BAKARA'S DJOVANY

BAKARA'S DRAGANA

BAKARA'S DAHOMEY

BAKARA'S DIANE-LEE

BAKARA'S DIXIE

BAKARA'S DAPHNEE


BAKARA'S DALILA

BAKARA'S DANAELLE

BAKARA'S DAYANA

The "J" Litter 2014


Puppies aged 3 weeks old

Puppies aged 6 weeks old

Puppies aged 7 weeks old


BAKARA'S JOANA

BAKARA'S JODAH

BAKARA'S JAFFA

BAKARA'S JILDA


BAKARA'S JA'NEL

BAKARA'S JANE

BAKARA'S JERALD

The "L" Litter 2015


Puppies the day of birth

Puppies aged 13 days old

Puppies aged 25 days old


Puppies aged 32 days old

Puppies aged 6 weeks old


Puppies aged 2 months old

Puppies aged 2 months and half old


BAKARA'S LEONARD

BAKARA'S LILY-ROSE

BAKARA'S LUUNA

BAKARA'S LISA-MADELINE


BAKARA'S LOCHLANN

BAKARA'S LOHRAN

BAKARA'S LOWEN

BAKARA'S LEO-PAUL


BAKARA'S LUDMILA

BAKARA'S LOUIS-PHILIPPE

The "P" Litter 2019


Puppies aged 3 days old

Puppies aged 11 days old

Puppies aged 1 month old


Puppies aged 1 month and hald old


BAKARA'S PAOLA

BAKARA'S PETRUS

BAKARA'S PRYDWYN


BAKARA'S PADDY

BAKARA'S POL AURELIEN

BAKARA'S PETULA

The "R" Litter 2020


Puppies aged 10 days old

Puppies aged 15 days old

Puppies aged 3 weeks old


Puppies aged 1 month old

Puppies aged 1 month 1/2 old


BAKARA'S RODERICK

BAKARA'S RAGNAR

BAKARA'S ROSA-MARIA

BAKARA'S RACKHAM

BAKARA'S ROXY


BAKARA'S REBECCA

BAKARA'S ROMEO

BAKARA'S RYANA

BAKARA'S RHODA

BAKARA'S RADCLIFF

SOUTHPOINT JARVIS

SOBERS LIMERICK

FIONN CLANN ZOE LANE

XILONE BLACK JACK

HICKORY'S NAUTICUS

THE FUTURE

BAKARA'S HOMEPAGE

GREYHOUND AND ART