Swedish, Danish Ch. BAKARA'S OLINNE
(Ch. Xilone Black Jack x Ch. Bakara's Ilona)
(14.07.1998 / ............)
Olinne, 1 month 1/2
Olinne, 4 months
In March 1999, Olinne aged 7 months flew to Sweden to her new home with Inger and Rolf JOHANSSON (SKYINGS Greyhounds).
She could not be sent earlier on account of Rabies antibodies test which had to be done 120 days after her first vaccination.
10 months old, visiting the Bosjokloster show
Olinne has already won CC in Sweden.
Sandviken SKK (04.09.1999)
Judge : Gunilla Fristedt (S) - CC - Best Bitch 2
Göteborg SKK (09.01.2000)
Judge : Robin Searle (GB) - CC - RCACIB - Best Bitch 2
Alfta KCS (02.07.2000)
judge : Jack Travis (IRL) - CC - BOS
Photo 18 months old
Christmas 1999
Spring 2000
In order to become a Swedish Champion, she'll need to win a CC when she's 2 years old (after the 14th of July 2000).
Bakara's Owen and Bakara's Olinne
in Sweden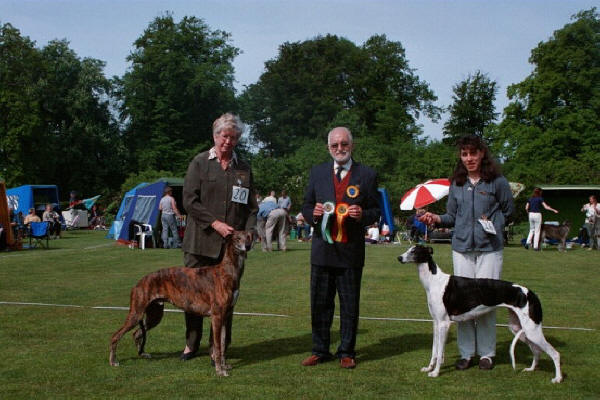 Result to become Swedish Champion :
Askersund SKK (13.08.2000)
Judge : Tina Permo (S) - CC
Bakara's Olinne and Sobers Cadiac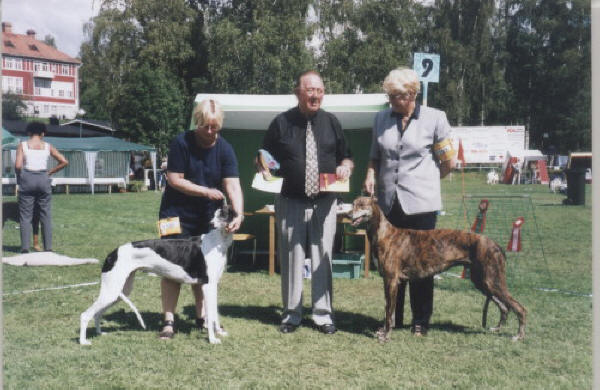 OLINNE IS
SWEDISH Champion
DANISH Champion

BAKARA'S CELINE

ROMANE

The "A" Litter

The "D" Litter

The "E" Litter

The "I" Litter

The first "O" Litter

BAKARA'S OANA

BAKARA'S ORNELLA

BAKARA'S OSANA

The second "O" Litter

BAKARA'S OCEANE

BAKARA'S OLINNE

BAKARA'S OLIVIANNE

BAKARA'S OPHELIA

BAKARA'S ORANE


BAKARA'S ODALRIC

BAKARA'S ONESIME

BAKARA'S OWEN

The "R" Litter

BAKARA'S RAEMOND

BAKARA'S RENE-ALEXANDER.

BAKARA'S RAFAEL

BAKARA'S ROSE-ANNA


BAKARA'S ROSELY-AMBER

The "S" Litter

BAKARA'S STANISLAS

BAKARA'S SULLIVAN

BAKARA'S SERGIO-PAULO

BAKARA'S SALOME


BAKARA'S SAMANTA-LEE

BAKARA'S SCARLETT-LILY

BAKARA'S SELENA-LUNA

The "U" Litter

BAKARA'S URSULA-FREYA

BAKARA'S UGOLIN

BAKARA'S ULLA-MARIA

The "V" Litter

BAKARA'S VANILLE

The "A" Litter 2005


Puppies aged 15 days old

Puppies aged 6 weeks old

Puppies aged 2 months and half old


BAKARA'S ASSIA

BAKARA'S AMALIA

BAKARA'S ALIX

BAKARA'S ANAIS

BAKARA'S ANAELLE

BAKARA'S AUXANE


BAKARA'S ALEXANNE

BAKARA'S AMANDINE

The "D" Litter 2008


Puppies aged 16 days old

Puppies aged 6 weeks old

Puppies aged 8 weeks old


BAKARA'S DJOVANY

BAKARA'S DRAGANA

BAKARA'S DAHOMEY

BAKARA'S DIANE-LEE

BAKARA'S DIXIE

BAKARA'S DAPHNEE


BAKARA'S DALILA

BAKARA'S DANAELLE

BAKARA'S DAYANA

The "J" Litter 2014


Puppies aged 3 weeks old

Puppies aged 6 weeks old

Puppies aged 7 weeks old


BAKARA'S JOANA

BAKARA'S JODAH

BAKARA'S JAFFA

BAKARA'S JILDA


BAKARA'S JA'NEL

BAKARA'S JANE

BAKARA'S JERALD

The "L" Litter 2015


Puppies the day of birth

Puppies aged 13 days old

Puppies aged 25 days old


Puppies aged 32 days old

Puppies aged 6 weeks old


Puppies aged 2 months old

Puppies aged 2 months and half old


BAKARA'S LEONARD

BAKARA'S LILY-ROSE

BAKARA'S LUUNA

BAKARA'S LISA-MADELINE


BAKARA'S LOCHLANN

BAKARA'S LOHRAN

BAKARA'S LOWEN

BAKARA'S LEO-PAUL


BAKARA'S LUDMILA

BAKARA'S LOUIS-PHILIPPE

The "P" Litter 2019


Puppies aged 3 days old

Puppies aged 11 days old

Puppies aged 1 month old


Puppies aged 1 month and hald old


BAKARA'S PAOLA

BAKARA'S PETRUS

BAKARA'S PRYDWYN


BAKARA'S PADDY

BAKARA'S POL AURELIEN

BAKARA'S PETULA

The "R" Litter 2020


Puppies aged 10 days old

Puppies aged 15 days old

Puppies aged 3 weeks old


Puppies aged 1 month old

Puppies aged 1 month 1/2 old


BAKARA'S RODERICK

BAKARA'S RAGNAR

BAKARA'S ROSA-MARIA

BAKARA'S RACKHAM

BAKARA'S ROXY


BAKARA'S REBECCA

BAKARA'S ROMEO

BAKARA'S RYANA

BAKARA'S RHODA

BAKARA'S RADCLIFF

SOUTHPOINT JARVIS

SOBERS LIMERICK

FIONN CLANN ZOE LANE

XILONE BLACK JACK

HICKORY'S NAUTICUS

THE FUTURE

BAKARA'S HOMEPAGE

GREYHOUND AND ART

OTHERS SITES

GUEST-BOOK